Democracy on the move? Bogotá's urban transport strategies and the access to the city
City, Territory and Architecture
An interdisciplinary debate on project perspectives
2017
4:15
Received: 1 June 2017
Accepted: 11 October 2017
Published: 16 October 2017
Abstract
Introduction
Everyday urban mobility is fundamental to access the opportunities offered by cities, something required to accomplish one's own aims and guarantee participation in social life. Nonetheless, it is difficult to guarantee significant individual opportunities by fighting mobility-related social exclusion, especially in Global South cities characterized by scarce provision of mobility services and wide presence of urban poverty.
Case study
The city of Bogotá has addressed the issues of mobility-related social exclusion by creating a large bus rapid transit system, called TransMilenio. Introduced in 2000, the public transport network was intended to provide a wider access to urban opportunities to a wider share of the urban population.
Discussion and evaluation
The TransMilenio has been an influential example due to its ability in addressing the messed mobility of a typical Global South metropolis and in promoting an intervention that requires less financial resources in comparison to other, traditional infrastructures. However, its results appear as partial when discussing the contribution of TransMilenio to urban access, as well as the economic and political implications of implementing such system.
Conclusions
While relevant is the alternative form of intervention promoted by TransMilenio, as well as its courage in addressing the apparently untamable mobility of a metropolis like Bogotá, similar strategies in the future should pay more attention to the issues of access—intended both as the possibility to make use of this public transport system, both in terms of reaching urban opportunities.
Keywords
Urban mobility
Accessibility
Social inclusion
Bus rapid transit
TransMilenio
Bogotá
Urban South
Background
The access to opportunities allowed by everyday urban mobility is fundamental to take part in a society built around the assumption of high mobility. Mobility is required in order to reach opportunities such as goods, services, places and people, allowing persons to be part of those relational networks that may matter to them (Cass et al. 2005). It contributes to the pursuit of personal life strategies and to the accomplishment of individual preferences, while different personal, social and spatial features define diverse personal capacities for everyday mobility (Kaufmann et al. 2004; Larsen et al. 2006; Urry 2007; Cresswell 2010; Kellerman 2012). These differences may result in potential inequalities, leading to a social disadvantage that manifests itself in various forms of exclusion (Kenyon et al. 2002; Litman 2010; Lucas 2012; Schwanen et al. 2015; Lucas et al. 2016a): in fact, people may be prevented "from participating in the economic, political and social life of the community because of reduced accessibility to opportunities, services and social networks, due in whole or part to insufficient mobility" (Kenyon et al. 2002, pp. 210–211).
Everyday mobility is often presented as a crucial field of action to contrast social exclusion (Lucas 2012; Preston and Rajé 2007) and consequently enhance quality of life (Stanley and Vella-Brodrick 2009). However, research on mobility-related social exclusion is often characterized by the lack of clear conceptualizations (Lucas et al. 2016b) as well as by a tendency to overlook "the broader implication of a comprehensive transport policy" (Beyazit 2011, p. 130), so that its influence on planning practice is quite limited. Despite awareness on the differentiated effects that the same infrastructural interventions may have on different groups and populations (e.g. Booth et al. 2000), infrastructures are often designed without taking much into account their splintering effects on people and spaces (Graham and Marvin 2001). Instead, a recent wave of mobility plans—in Europe and in the United States—has explicitly addressed mobility-related social issues, even if with different (and often critical) approaches and results (Arsenio et al. 2016; Manaugh et al. 2015), and despite a chronic lack of reliable data in this sense (Jaramillo et al. 2012).
Guaranteeing the everyday access to relevant urban opportunities is even a more pressing challenge for urban settings in the Global South, where "access to employment is critical to fight against poverty, and (..) the availability of good transport infrastructure and services is a basis on which this access can be achieved" (World Bank 2002, p. 28). Lack of access may result also in high rates of urban criminality (Gouverneur 2016, p. 77). Furthermore, access is central in the paradigm for sustainable urban mobility promoted by United Nations Human Settlements Programme (2013), which in its analysis of the state of mobility in different countries of the world assumes that "the prevailing challenges of urban mobility are consequences of the preoccupation with the means of mobility rather than its end—which is the realization of accessibility" (United Nations Human Settlements Programme 2013, p. 1). Improving accessibility is thus crucial for increasing the possibility that each person has to participate in urban life. However, the suggested courses of action privilege the provision of high-capacity public transport systems, accompanied by the institutions and governance schemes required for their implementation; in fact, in Global South cities the pressing issues of urban poverty are often accompanied by a lack of resources required to develop such systems.
In its proposals for guarantying access in Global South settings, UN Habitat focuses on three typologies of public transport systems: metro, light rail and bus rapid transit (BRT). This last option is presented as a privileged solution, due to the possibility to guarantee a reliable public transport service by using relatively smaller amounts of funds. To promote BRT systems, the case of Bogotá (Colombia) is often presented as the most successful reference model, due to the effectiveness of its service and to its significant role within a wider strategy of social inclusion promoted in the city. The system, called TransMilenio, started operations in 2000: after almost two decades of service, it is possible to critically reexamine the experience of Bogotá, and to assess its effectiveness in guarantying a wider access to urban opportunities to a wider share of its urban population. In fact, Bogotá allows a 'Southern' perspective (Yiftachel 2006) on a typically Western institutional discourse on mobility, according to which interventions on transport systems are required to enhance personal opportunities because "obstructions to mobility networks are seen as an affront on liberty and freedom of citizens" (Doughty and Murray 2016, p. 308). To do so, the paper intends to briefly explain the relevance of Bogotá's experience, define a framework for assessing its urban transport strategies in relation to improving access to urban opportunities, and finally provide an analysis of the results that TransMilenio has achieved.
Case study
The history of Bogotá as an interesting example of transport planning starts in the Nineties. Like many other cities in the Global South, in the second half of the Twentieth century Bogotá experiences a fast and disordered growth. Different are the reasons that in Colombia push people towards cities: a lack of economic opportunities and significant services in rural areas (Robinson
2016
); the attempt to improve one's own economic condition, in a country characterized by the highest economic inequality in South America (the Gini index of Colombia is 55.9: see Lopez-Calva et al.
2015
; Székely and Mendoza
2015
); the decades-long conflict that see guerrilla movements, paramilitary groups, narcotraffic cartels and the State continuously fighting between each other (Ballvé
2012
; Salcedo Fidalgo
2015
). This migratory process fosters the growth of informal settlements, which can offer affordable housing, easy access to basic provisions and proximity to some job occasions (Torres Tovar
2009
). At the same time, the unplanned origin of these neighborhoods—often illegal or semilegal—offers some answers to basic needs such as housing and basic provisions, but does not allow the public interventions that guarantee equally basic services such as electricity, water or transport, nor they provide a good access to urban opportunities such as services and jobs. Consequently, the areas that respond to the basic needs of a relevant share of the urban population also generate needs that are more difficult to address, in comparison with the formal areas of the city. In the case of Bogotá, such issues are worsened by the location of the informal settlements, spread in the southern part of the city, characterized by higher elevation and high distances from the city center; moreover, these areas host the highest densities of inhabitants and are home to the worst-off groups (Figs.
1
and
2
).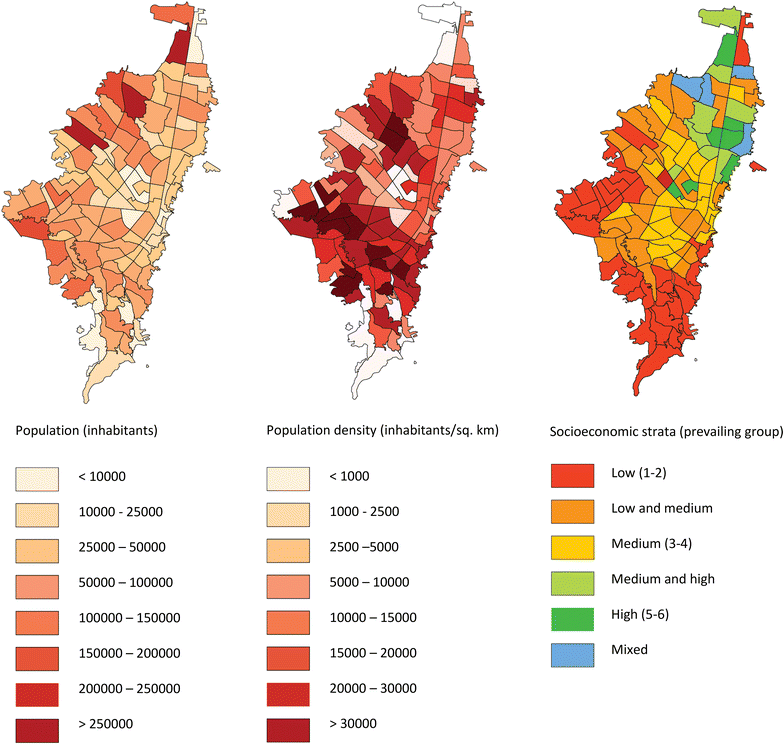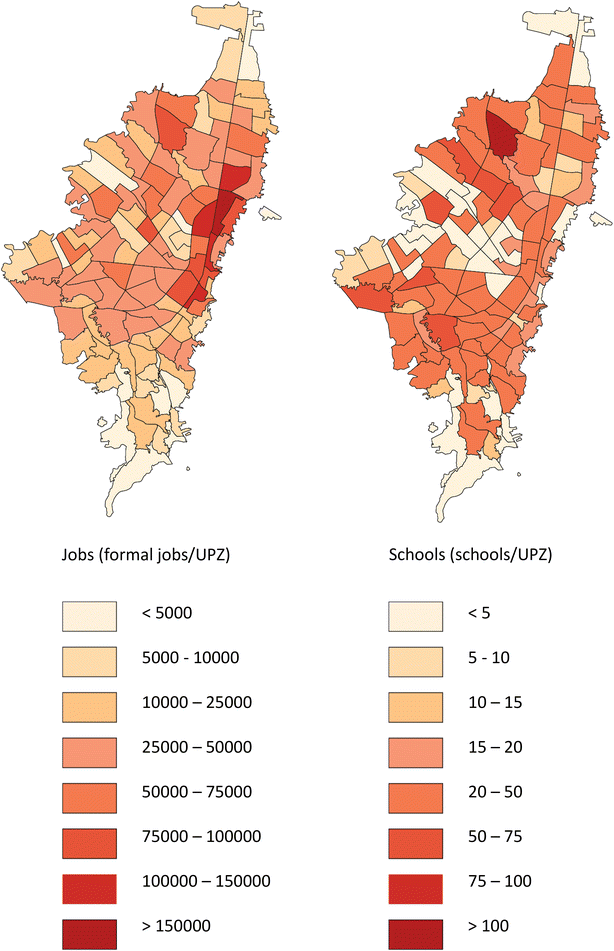 As a city characterized by significant informal settlements and relevant socio-economic disparities, Bogotá does not guarantee equal access to urban opportunities for all its inhabitants. The issues of urban everyday mobility are particularly critical in this sense. For the worst-off strata of the population, public transport is the only modal choice available for medium and long-distance trips (Bocarejo and Oviedo 2012). Moreover, before introducing the celebrated TransMilenio the quality of the public service was quite low, mainly because of the poor institutional arrangements that defined service routes and standards. Transport companies and bus owners were the de facto controllers of the public transport service and were in competition with each other, so that the offered service was slow (the presence of many lines caused congestion), unclear (there was no integration of fares or routes), and uncomfortable (to compete with each other, service providers kept fares low by saving on vehicle maintenance). To provide a solution to Bogotá's mobility issues, national and municipal institutions proposed at different times the construction of a subway network, but the proposal is never implemented due to lack of funding (see Ardila-Gómez 2004 for a deep reconstruction of transit planning processes in Bogotá).
Bogotá lives a renaissance season in the Nineties thanks to a wave of newly appointed mayors: one of them, Enrique Peñalosa, promotes an alternative approach to the urban mobility issues of the city. Inspired by the similar experience of Curitiba, a middle-size Brazilian city, the mayor proposes the creation of a bus rapid transit system. The project is intended to offer a more reliable public transport service both in the center and in the peripheries, serving different social groups, by requiring lower investments than those for a subway system. Assuming this model, the TransMilenio system is created. The network covers the main road trunks with lanes exclusively reserved to the buses and stops separated by large distances (an average of 500 m, a distance like that inbetween subway stations). The termini of the trunks are intended as interchange poles, where to catch local lines serving peripheral areas. Other elements give an identity to TransMilenio: its red vehicles are quite recognizable, while its evocative name projects Bogotá and its mobility in a new, innovative dimension.
The TransMilenio system has not been fully implemented yet. As of September 2016 (Fig.
3
), the network was composed of 12 trunks and was extended for 113 km, with 147 stops; the service had a commercial speed of 26 km/h, and the daily passengers were approximately 2,4 million (TransMilenio
2016
). However, the TransMilenio was not simply intended to improve urban mobility issues. According to the mayor Peñalosa, the TransMilenio was supposed to be "the place where the vice-president of a large corporation or the doorman of a building would feel good. A place where they would meet as equals in an environment that respected human dignity" (Ardila-Gómez
2004
, p. 332). In Peñalosa's vision, the construction of the BRT network contributed to a more democratic urban space: "the TransMilenio system built 'democracy' into the urban fabric because the system is citywide and buses are symbols of equality" (Cesafsky
2017
, p. 15). The TransMilenio was then conceived not as a modal alternative exclusively for the poor or the rich, but rather as an opportunity for social inclusion, within a wider strategy of urban regeneration. The system intervened on the quality of public transport service, put forward the idea of everyday mobility as a key element for a more democratic access to the city, and contributed to an overall improvement of the image of Bogotá. However, several components determine how TransMilenio contributes to an improved urban access, as the next section explains.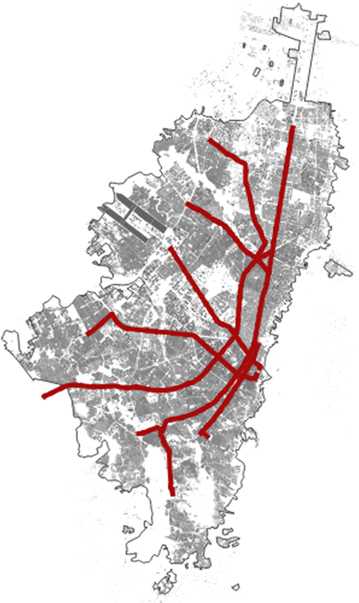 Methodology
To discuss how the urban transport strategies of Bogotá have contributed or not to improving accessibility to urban opportunities, the paper uses varied sources of information. These data, collected as part of a research project on urban mobility and human capabilities in Bogotá, include a wide range of sources involving both academic and grey literature: statistic and cartographic information from national public bodies of Colombia, municipal institutions of Bogotá and TransMilenio SA, the subject that regulates the public transport system of the city; planning documents, referred to land use and transport strategies; academic research, which provides crucial information for retracing TransMilenio as an urban policy case study as well as earlier evaluations of the project; citizens' surveys, which convey how the urban transport system is perceived on a daily basis; and newspapers articles, which discuss current urban mobility projects and issues. The analysis follows a framework that defines how mobility (and mobility systems in particular) allows each person to reach the opportunities that she has reason to value and contributes thus to the personal freedom, considering its significant elements.
Each person has varied opportunities she values, and mobility is required to reach them. In fact, the land use features define "the amount, quality and spatial distribution opportunities supplied at each destination (jobs, shops, health, social and recreational facilities, etc.), the demand for these opportunities at origin locations (e.g. where inhabitants live), and the confrontation of supply of and demand for opportunities, which may result in competition for activities with restricted capacity such as job and school vacancies and hospital beds" (Dijst et al. 2013, pp. 209–210). Each person has different capacities to freely move, depending on personal features as well as on the "possible mobilities according to place, time and other contextual constraints" (Kaufmann et al. 2004, p. 750). Transport systems—and the TransMilenio here discussed—contribute to these possible mobilities. Depending on a personal choice, each person can decide to put into practice such capacity to move, and accessibility to valued opportunities lies amongst its possible uses. Opportunities include a range of resources and activities necessary for the freedom that each individual has to lead one kind of life or another (Nussbaum and Sen 1993) and for the participation to social life. Identifying development with the possibility for everyone to flourish according to what she has reason to value (Nussbaum 2000), individual freedom becomes a social commitment (Sen 1999).
Due to these reflections on people and the society, mobility planning may assume accessibility as its main aim, and transport systems may be evaluated accordingly: transport systems in fact are instrumental for providing the possibility to move required also to access to urban opportunities (Martens 2017). Several aspects enhance or hinder the contribution that transport systems can provide to accessibility; the evaluation of Bogotá's TransMilenio will discuss these in the following sections. First, several characteristics define if a transport system is available to a person and contributes thus to her ability to move. The structure of the network defines to which areas and people the system is available, according to the number of neighbourhoods and inhabitants with pedestrian access to the public transport system. Integration instead involves the relationship of the transport system with different built environments and with other transport modes, an aspect which may facilitate or not its use and can be evaluated according to the number of existing interchanges as well as the design of the stations. Regulations instead defines the possibility to enter the transport system, considering in particular the fares and how they impact different socio-economic groups. Then, some aspects influence the actual use of the transport system, referring to the design of its component as well as to the user experience, observable through public evaluations of the service quality. Finally, considering mobility as an instrumental activity required to access opportunities, the places and activities reachable thanks to the examined transport system are considered, as well as the groups to which access is available.
Other elements instead influence the planning decision to implement one specific transport systems or another, and reflect its wider impact on the settings that adopt it. Feasibility for example defines how the desired planning aims can be reached according to the available technical solutions and economic resources. In the case of TransMilenio, the construction costs and the management schemes are discussed, since this economic dimension has been crucial for promoting BRT as a system that achieves at lower expenses the same benefits of other traditional transport systems; a focus on the benefits and costs emerging from traditional forms of appraisal is provided as well. Moreover, the implementation of a transport system may have wider influence on urban transformations, be it directly (for example, through devoted planning initiatives developed around it) or indirectly. Finally, the impact of TransMilenio on urban policy and politics is significant to understand its influence on the strategies of Bogotá as well on the many cities that have replicated it all around the world.
Discussion and evaluation
Conclusions
The case of Bogotá demonstrates how new urban mobility infrastructures can improve the overall access to urban opportunities, even if their contribution alone is not sufficient. Bogotá uses TransMilenio as a tool to intervene in a dense and disordered city where no previous massive investments in transport had been promoted, as well as to guarantee an improved access to the city and its opportunities. A lighter infrastructure in comparison to other systems, the bus rapid transit proves to be a valuable solution to provide a wide improvement of the everyday mobility in a setting characterized by scarcity of financial resources. However, almost two decades after its introduction TransMilenio still proves to benefit only a share of Bogotá and its population.
To improve and expand the TransMilenio, a further attention to the issues of access is required. While relevant is the alternative form of intervention promoted by the BRT system, as well as its courage in addressing the apparently untamable mobility of a metropolis like Bogotá, similar strategies should pay more attention to the possibility to make use of this public transport system and to the urban opportunities it allows to reach. TransMilenio does not directly serve the marginal areas of the city, especially in the Southern part of Bogotá; feeder services reaching the BRT stations only partially address this issue, since low frequencies and long travel times dramatically reduce their attractiveness. Moreover, the current fare system strongly impacts on the monthly expenditures of the worst-off families, preventing them from systematically using TransMilenio. However, an extensive expansion of the BRT system is not feasible, due the impervious conditions of the marginal, informal settlements in the periphery of Bogotá as well as to the financial costs of constructing and managing such a wide network. The construction of massive infrastructures does not appear thus to be enough to address the issues of the everyday urban access.
Focusing on access, the case of Bogotá suggests that massive interventions on public transport infrastructures need to be complemented by other planning measures. In general, the recovery of existing and unused infrastructures may complement the construction from scratch of new networks (Barco et al. 2015), while active modes of transport may be promoted in central and intermediate areas of the city for trips covering short and medium distances. Interventions in peripheral areas are more difficult, though. While new infrastructures and services are promoted to access more easily the massive public transport network, the costs of travelling—especially monetary ones—still strongly impact the travel decisions of those who live in the peripheries (Bocarejo et al. 2016). Having access in mind, a reverse approach could then be significant: valued opportunities, such as jobs, shops and services, may be brought to the areas that currently have difficulties in accessing them. This attitude would focus on what may be defined as 'immotility', valuing the local dimension and meaning thus stillness as social capital (Ferreira et al. 2017). The limited effectiveness of Bogotá's TransMilenio in guaranteeing access to the city suggests thus that it is not possible to indifferently replicate the same urban mobility strategies on the whole territory of a metropolis. Rather, articulated, place-based strategies are required to improve urban access according to peculiar local needs and opportunities.
In conclusion, Bogotá still appears as "an archipelago without sea" (Leon Borja 2015, p. 17): the various areas of the city have different abilities to access other neighborhoods and the urban opportunities they offer. The implementation of TransMilenio has improved the conditions of Bogotá, in two senses. On the one hand, the BRT system has demonstrated the possibility to intervene on the mobility of a chaotic Urban South metropolis, even with relatively few financial resources. On the other hand, the everyday mobility of the city has improved, but mainly middle-class inhabitants have benefitted from such ameliorations. However, the relevance of TransMilenio is limited if considering that access to significant urban opportunities is still critical, especially when examining peripheral settlements and the worst-off inhabitants. To provide a more democratic access to the city, as TransMilenio was initially intended to do, a focus on urban accessibility and the implementation of measures other than massive infrastructures are required, in Bogotá and anywhere else.
Footnotes
1
Elaboration on data from Alcaldía Mayor de Bogotá 2016. It must be noted that official data have limitations in portraying the inhabitants of the informal settlements, so that Bogotá actually hosts more inhabitants than those indicated in official statistics. Consequently, the real percentage of urban population with access to TransMilenio is probably lower than the value here provided.
Abbreviations
BRT:

bus rapid transit
COP:

Colombian Pesos
SITP:

Sistema Integrado de Transporte Publico
Declarations
Acknowledgements
The author acknowledges Liliana Giraldo Arias for her previous reading of the paper, as well as the anonymous reviewers, whose comments helped improve considerably the final version of the paper.
Competing interests
The author declares that he has no competing interests.
Availability of data and materials
Data available upon request.
Consent for publication
Not applicable.
Ethics approval and consent to participate
Not applicable.
Publisher's Note
Springer Nature remains neutral with regard to jurisdictional claims in published maps and institutional affiliations.
Open AccessThis article is distributed under the terms of the Creative Commons Attribution 4.0 International License (http://creativecommons.org/licenses/by/4.0/), which permits unrestricted use, distribution, and reproduction in any medium, provided you give appropriate credit to the original author(s) and the source, provide a link to the Creative Commons license, and indicate if changes were made.
Authors' Affiliations
(1)
Department of Architecture and Urban Studies, Politecnico di Milano, Milan, Italy