Research article

Open Access
Agricultural level of development: a comparative study between project and non-project area of JSW Bengal Steel Ltd. at Sundra Basin of Salboni block, Paschim Medinipur, West Bengal, India
City, Territory and Architecture
An interdisciplinary debate on project perspectives
2017
4:12
Received: 10 April 2017
Accepted: 18 August 2017
Published: 23 August 2017
Abstract
M/S JSW Bengal Steel Ltd. is one of the India's leading steel producer company is going to set up a 10.0 Mtpa (Million ton per annum) and 300 MW Captive Power Plant by 2020 at Sundra Basin of Paschim Medinipur, but the proposed projet has been suspended due to lack of raw materials on 1st December 2014. For the said project 17.1 sq km land has been acquired from 22 mouzas in 2009. After land acquisition an extensive deterioration in the agricultural level of development has been observed at the JSW project affected mouzas. Due to losing of productive land and profession of primary activities, people of project sites have been suffering from steep reduction in income and employment. As a consequence, a sharp difference in development between project affected and non-affected areas has been observed at basin scale. The value of composite index of agricultural development varies from 0.28 in 2007 to 0.94 in 2014 that indicates a wide regional disparities present at study area and requires immediate attention for all inclusive development. So there is an immediate need for proper planning on project affected mouzas to make alternative livelihood opportunities with help of local NGOs and Government.
Keywords
Composite index
JSW Bengal Steel Ltd
Agricultural development
Land acquisition
Introduction
Quality of life of the people should be improved through proper development planning (Inglehart 1997; Myrdal 1972; Ohlan 2013). Development project may alter existing physical and social situation of the concerned region and its surroundings that may bring unanticipated adverse impacts (Long et al. 2007; Madon 2000; Szirmai 2015) on society. In order to manage the adverse impact, a development indicator is needed to develop for bringing about uniformity in regional development (Akama and Kieti 2007; Choudhury 1992; Dasgupta 1971; Sarker 1994). Development is a multi-dimensional process (Bhattacharya and Mahalanobis 1967; Dreze and Sen 1999) which cannot be fully estimated by a single indicator. Moreover, when we use a number of indicators individually, we cannot get any integrated and easily comprehensive picture of reality. So, it necessitates to build up a composite index (CI) of development based upon optimal combination of different developmental indicators in the analysis for assessing the level of development (Demurger 2001; Florek et al. 1951; Narain et al. 2011). Drewnowski (1972) has defined an easily accessible socio-economic indicator which contains information about the degree of satisfaction of human needs.
Several studies have been done to provide various dimensions to concept of development (Choudhury 1995; Das 1999; Parihar and Srivastava 2003) and the studies revealed that there are wide disparities in the level of development among different regions. A deeper level analysis on the estimation of level of development has been done in different years on same ground for several states, e.g. Orissa (Narain et al. 1992, 1993), Andhra Pradesh (Narain et al. 1994a, b, 2009), Kerala (Narain et al. 1994a, b, 2005), Utter Pradesh (Narain et al. 1995), Maharashtra (Narain et al. 1996), Karnataka (Narain et al. 1997, 2003), Tamil Nadu (Narain et al. 2000), Madhya Pradesh (Narain et al. 2002), Assam (Narain et al. 2004), West Bengal (Narain et al. 2011; Rai and Bhatia 2004, 2011) and Jammu and Kashmir (Narain et al. 1991). It is observed that entire parts of low developed districts are not backward but there are some parts which are also better development (Raja and Yousaf 2014). In addition on the base of above studies, researchers have been trying to provide various dimensions to the concept of development.
M/S JSW Bengal Steel Ltd. of Jindal group, part of O.P. Jindal is one of the India's leading steel producers with a significant presence in sector like mining, stainless steel, carbon steel, large diameter pipes, non-ferrous metals, power generation and distribution and maritime infrastructure (Jindal Steel and Power Ltd 2014; Sudalaimuthu and RAJ 2009). JSW Steel Ltd. operates a steel plant at Vijayanagar district, Bellary in Karnataka state. The JSW group also owns and operates southern Iron & Steel Company Ltd. which is only integrated steel plant in Tamil Nadu and also cold rolling, galvanizing and color coating plants at Tarapur and Vasind in Maharashtra.
Now the company is signed a pact with West Bengal Government on 11th January 2007 to set up a 10.0 Mtpa steel plant and 300 MW CPP by 2020 at Sundra basin of Paschim Medinipur district, West Bengal (JSW EIA
2007
). The basin is stretching between 22°37′09″N to 22°36′02″N and 87°13′44″E to 87°16′09″E (Fig.
1
) is one of the backward regions of this state. Sundra is the tributary of Tamal that ultimately pours to the river Silaboti. As of 2011 census, 32,689 persons have distributed among 109 smallest revenue units (mouzas) with a density of 274/sq km. The maximum concentration of population has been observed at Saiyadpur (1114 person), Godapiasol (1387 person), Jhar Bhanga (1983 person), Kontai (2102 person), Benachapra (1203 person), Dudiabandi (887 person), Bagbasa (903 person), Jamdedya (827 person) mouza, etc. along the road side due to accessibility of high transport facility. The literacy rate is 58%. Scheduled Castes and Tribes constitute 24.1 and 16.3% of the population respectively (Census of India
2001
,
2011
). Agriculture, livestock production and collecting are the main stay of the local economies (District statistical handbook
2006
,
2007
).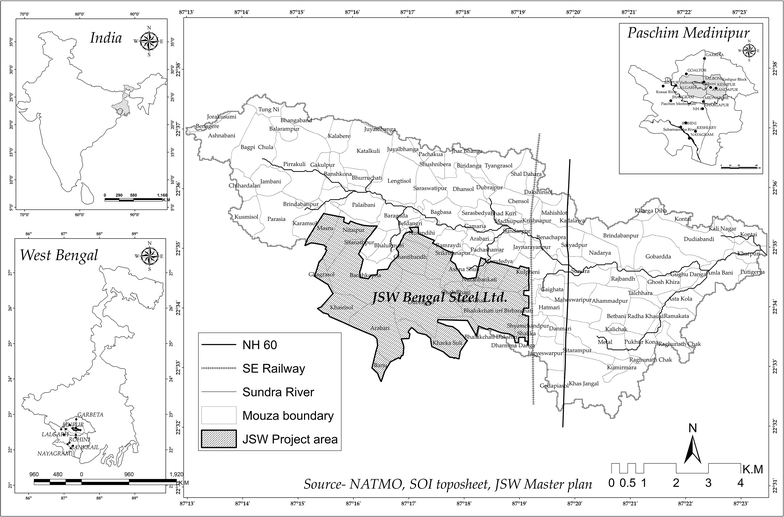 For the proposed project 17.1 sq km land has been acquired from 22 mouzas in 2009. As a consequence a huge landuse conversion has been observed. The study area has lost 1.3 sq km of crop land, 9.6 sq km of forest land, 2.9 sq km of waste land and 3.3 sq km of fodder farm land. Livelihood of local residents of project site is mainly rely on natural resources like land and forest. But on 1st December 2014, JSW authority has announced to suspend the proposed project (Anandabazar, 2014) due to lack of raw materials. As a consequence the project affected household (HH) are in severe condition in terms of their livelihood, income and accessibility. At Nutandihi, Ashna Shuli, Kharka Suli, Dubrajpur, Barju, Ghagrasol mouza there were 36, 124, 100, 14, 17 and 46 persons of main cultivators before land acquisition but after acquisition this figure is belong to 8, 41, 5, 0, 5 and 7 persons respectively. Maximum percentage of marginal workers has been recorded at Nutandihi (54%), Khairisol (58%), Barju (53%) while it was 0, 19 and 26% respectively before acquisition. At lower catchment Rajbandh, Bagpi Chula, Dudiabandi, Ghosh Khira, Amla Bani, Asta Kola, Putigerya, Kharpuri mouzas are depending on agricultural activities; but at project site Nutandihi, Nitaipur, Ashna Shuli, Kulpheni, Gaighata, Hatmari, Shalika, Kharka Suli, Arabari, Khairisol major source of income were agriculture (40–60%) and livestock farming (20–30%), now after land acquisition and due to clearance of forest cover this percentage has been observed as 20–25% and only 8–10% respectively.
The main objective of the study is to estimate a CI of development in agricultural sector for comparison in between pre (2007) and post (2014) land acquisition session. The outcome of level of development at mouza level will help to identify where a given mouza stands in relation to others.
Abbreviations
Mtpa:

million ton per annum
CI:

composite index
NGO:

Non-Government Organization
CPP:

Captive Power Plant
MW:

mega watt
km:

kilo meter
sq:

square
kg:

kilo gram
SD:

standard deviation
Declarations
Authors' contributions
SPS conceived of the study, carried out field work, analyzed data, drafted the manuscript and coordinate the whole work. RKM gave technical support and supervised the whole work, helped interpret the result and edited the paper. Both authors read and approved the final manuscript.
Acknowledgements
I wish to record my sincere gratitude to all the officials of all Departments including B.L.R.O (Salboni), D.L.R.O (Medinipur), Survey of India Government of West Bengal who had provided me valuable information on my study. I am highly obliged to Mr. Arun Mahato, local inhabitant of Salboni, Paschim Medinipur for assisting in field work and data analysis.
Competing interests
The authors declare that they have no competing interests.
Availability of data and materials
All relevant raw data will be freely available for non-commercial purposes.
Consent of publication
Not applicable.
Ethics approval and consent to participate
Not applicable.
Funding
Funding information is not applicable/No funding was received.
Publisher's Note
Springer Nature remains neutral with regard to jurisdictional claims in published maps and institutional affiliations.
Open AccessThis article is distributed under the terms of the Creative Commons Attribution 4.0 International License (http://creativecommons.org/licenses/by/4.0/), which permits unrestricted use, distribution, and reproduction in any medium, provided you give appropriate credit to the original author(s) and the source, provide a link to the Creative Commons license, and indicate if changes were made.
Authors' Affiliations
(1)
Vidyasagar University, Paschim Medinipur, India